News
Posted by Justin Klocke on
Posted by Justin Klocke on
Posted by Justin Klocke on
At the end of 2018, I spent some time prototyping Nishnabotna bike badges. My former Athens, Georgia studio-mate, Rhys Niesen (@rhysmayjewelry) has been making badges for a few years and she gave me some pointers. Living in Colorado, I figured the iconic state flag was a good place to start. A version of one of these will make it into the store. Customs are always welcome too!    
Posted by Justin Klocke on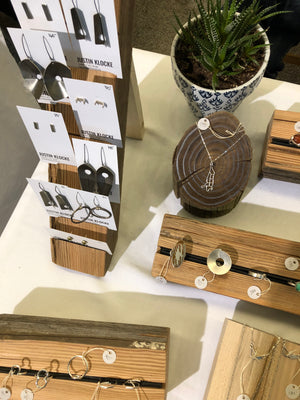 Thanks to everyone who made it out to Jackalope Art Fair last weekend in Denver. It was great meeting so many new creative people in such a great space.   We'll be wrapping up the holiday season at the Denver Flea this weekend (Dec 14th-16th) in front of Union Station. Come by and say "hi!"   We'll be showcasing new jewelry this weekend which will be added to the Nishnabotna site soon. If you're interested in a particular piece, feel free to send us an email to justinklocke@gmail.com.    1701 Wynkoop, Denver CO Hours: Fri 5 - 9pm, Sat 10am...
Posted by Justin Klocke on
The Nishnabotna jewelry and functional objects site is finally coming together! We're developing new products and adding new collections in over time. I hope you enjoy.